Cold day in hell
The inaugural Rocheport Roubaix was billed as a winter cycling adventure on gravel, and winter did not fail to deliver. Memories of last weekend's glorious warmth weren't enough to stave off the biting chill of a day when the freezing point sounded almost tropical, so for perhaps the first time ever I looked forward to the heat-producing uphills with the kind of I-don't-care-how-bad-it-is eagerness a heavily pregnant woman reserves for childbirth. The "Hell of the Midwest" was definitely the frozen variety.
The 55-mile race started at 10:30, leaving time for the morning to warm up to a balmy 14 degrees. While I wasn't thrilled about the cold, I was considerably more worried about potentially icy roads. Having done the 2013 Castlewood 8-Hour with a 10 degree starting temp, I'm pretty confident in my ability to dress for the cold, and it wasn't like we were going to be out there for 8 hours. As it turned out, I was only partially right on both counts.
Even with the relatively late start time, Bob and I only made it to town about 15 minutes early. Thankfully Luke had picked up our numbers and timing chips, which we collected after hurrying into our riding layers. Our group of friends made up nearly half of the field: along with the Virtus contingent (Adam, Bob, Luke, Robby, and me), Chuck and our TOG friends Jim and Aaron were there. Additionally, Lori and Christina were both in for the 30-mile route, and Momentum's Mickey and Shaun had already left on their 70-mile course.
The race director said a few words at the start line, emphasizing that racers should definitely wear glasses due to the cold. I'd left mine back in the truck and opted to just stick it out bare-faced. I also hadn't thought to get a cue sheet or download the course to my Garmin but wasn't too worried because I figured we'd all stick together. That assumption lasted for maybe the first hill, where most of the pack flew away while I tooled up. Luckily Chuck was on his mountain bike, and his big knobby tires made it easier for me to be able to stay with him. I was a little worried about making the first turn without Bob since I didn't think he had a cue sheet either, but the volunteer at the intersection promised to make sure he didn't miss it.
My temperature confidence hadn't really taken the wind chill into account, and while the layers on my body were sufficient I wasn't particularly comfortable. I was wearing a fleece hat and balaclava that I could pull over my mouth and nose when I needed to, but the headwind whipped against my face and the cold rush of air on downhills was almost blinding. It's too bad no one suggested we should wear glasses...
Temperature aside, road conditions were far better than I'd expected: smooth, hard-packed gravel, little ice, and few cars. Occasional turns out of the headwind or into the shelter of cedars were welcome breaks. The hose of my Camelbak froze almost immediately, but I'd also brought two insulated water bottles. I was slightly more concerned when I realized the bottles were frozen shut but was distracted from my hydration worries by the cool exposed root systems of some trees we passed and by the camera-shy chicken we saw crossing the road.
I'm sure there's a joke in here somewhere...
Unwilling to pander to its paparazzi, the chicken moved on and so did we, shortly arriving at the first warming station.
The aid stations were well-placed but perhaps not entirely prepared for the depth of the cold. By the time we reached the first one, their water coolers were pretty much frozen, as was the jar of pickles. The volunteers were very helpful, one hauling a cooler out of the truck where they were trying to thaw it, while the other held my water bottle up to the propane heater while I ate something and tried in vain to open the other bottle.
Eventually we were able to unscrew the lid so I could get a little water out, and then I did my best to melt it further while we watched for Bob. Because my water bottle cage had broken, I had to carry one bottle in my jersey pocket; that ended up warming the bottle enough that I could drink at will, but only when I was stopped because it was tucked under my jacket and useless Camelbak.
Once we were all back together again, we took off in search of more miles. Bob had a cue sheet after all and told us not to wait on him, but we all stuck together for a while.
The route took us past the
Big Oak Tree
, the largest bur oak in Missouri. Over 350 years old, it doesn't seem all that notable when viewed from the nearby Katy Trail but is enormous up close. Race or not, freezing temperatures or not, that's worth a picture.
Just past here, the race director came by and asked how we were doing. I told him I was great except for my frozen eyes. Instead of dropping a well-deserved "I told you so" and speeding off, he drove further down the road, stopped and dug out a pair of his wife's sunglasses, and handed them to me as we reached him. That's some impressive customer service, and it was typical of the day; race support vehicles passed us regularly as they roamed the course, and we were thankful for the reassurance their presence gave. It was definitely not a day you'd want to be waiting long for help.
I had to laugh as I put on the borrowed glasses. My typical "bike" sunglasses are more Kim Kardashian than Rebecca Rusch, and these ones looked like they could have come out of my purse. At that point I would have welcomed
any
eye protection, but I wasn't sad to be wearing something I didn't hate. We rode what seemed like a lot of pavement to the second aid station, where we talked with the volunteers a bit and met up with Mickey, who'd dropped after 35 miles of frozen water. I had been gazing longingly at the turn-offs for the 30-mile route and was more than a little jealous of his warm trip back to the start, but his leftover salami and cheese roll-ups were a nice consolation prize for continuing to ride.
The middle section of the course featured a few bigger climbs and a screaming descent that, even at my cautious pace, sent a rush of blistering cold across my face that made me newly grateful for the protection of my borrowed sunglasses.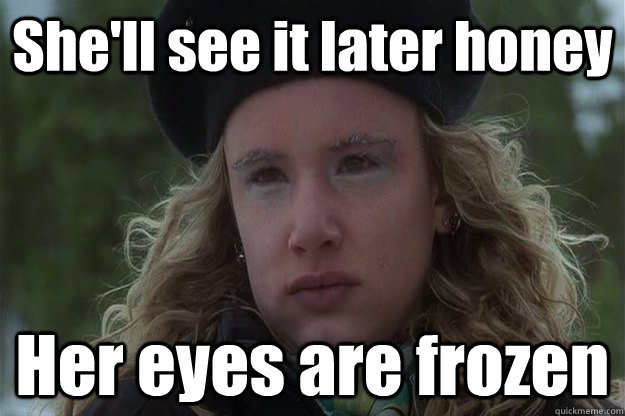 This could have been me...
Whether it was due to my limited fluids or just something I'm going to have to figure out, my leg cramps had started speaking up soon after the second aid station. I'd stopped to take some electrolytes and a couple of ibuprofen, which had helped, and had been trying to spin in an easy gear until the cramps fully disappeared. It didn't take me long to decide to walk the climb following that downhill. Seeing Bob flying down the hill behind us, we waited next to a barn and pulled out the salami roll-ups, which were a delicious change from the sweet stuff I typically eat on long rides.
Long hill in the background
Our spot barnside spot demonstrated just how big of an effect the wind had. With the wind blocked, the freezing temperature felt pretty comfortable. We couldn't stay there all day, though, so we finished our snacks and headed off onto the loop at the far end of the course, happy in the knowledge that the wind would be more at our backs on the return trip.
We opted to bypass the third aid station but stopped soon afterwards as I spotted
Boathenge
along the Katy Trail. I've actually ridden past this twice on previous Katy Trail thru-rides but don't remember seeing it, and Chuck had never seen it; it was fun to for once be the one pointing out something cool to him instead of the other way around.
It would have been a slightly better picture from the Katy Trail side, but this will have to suffice.
Since Chuck had the course loaded onto his Garmin, he didn't have our mileage in front of him, so it fell to me to keep him updated. I'd spent the entire ride staring at the bike computer with a clock-watcher's fervor but limited my spoken updates to "significant milestones":
5 miles: "We're an 11th of the way done!"
5.5 miles: "We're a 10th of the way done!"
20 miles: "We're practically halfway there!"
27.5 miles: "We're officially halfway there!"
34 miles: "In 11 miles, we'll only have 10 miles to go!"
40 miles: "Just 15 miles left, that's like a short Trailnet ride."
50 miles: "Even Jacob can ride 5 miles."
(This might be a good time to mention that Chuck has limited hearing in his left ear, a fact that probably explains his amazing ability to tolerate long rides with me.)
Countdown notwithstanding, the last 25 miles seemed to fly by. It's clear from looking at the map that the course was basically one big out and back with a lollipop on the end, but the only landmarks I recognized at the time were the
Eagle Bluffs conservation area
(site of the most disgusting pit toilet I've ever encountered) and the big tree. Everything else looked totally different viewed from the opposite direction, partly because most of what I'd seen on the first half of the race was Chuck's back.
After a strong crosswind at the big tree we had the wind at our backs for the remainder of the ride. There was more fresh gravel than I'd remembered before, making me very thankful for the pavement I'd scorned earlier in the day. There were also more hills than I'd remembered, but they were mostly fun rollers.
Both of us were glad to ride back into Rocheport and fly down the hill we'd crept up first thing that morning. My cross tires were considerably faster than Chuck's knobby MTB tires, but I had to ease up when I realized I had no idea where the turn was. I recognized it in time to be able to beat him in the sprint and crossed the line laughing.
It looks weirdly like we're holding hands here, but we just both had our hands on the bike.
Luke got our picture after the finish and found us some hot chili while I got into some warm, dry clothes as quickly as possible. We all had a nice time hanging out at the Rocheport General Store, but everyone else had been waiting around for a while, so it wasn't long before we all headed towards home.
This is one of those races that's slightly more fun in retrospect than at the time. I'm glad I went, but it felt more like finishing a job than adventuring with friends. That may be because it was too cold to do much adventuring, but there's something entertaining about racing in such stupid weather, too.
All in all, it was a very well-run event. All of the race staff/volunteers were friendly and helpful, and there was a ton of support on-course. I found the course marking slightly confusing, but none of my other friends did, so maybe that's just me. The biggest change I'd liked to have seen was at the aid stations; on a day that cold and windy, it would have been nice to have some kind of wind-block and something warm to drink.
What I wore:
Lightweight l/s tech top/base layer
Med. weight l/s tech top
Med. weight l/s jersey
Windbreaker
Bike shorts
Polartec
tights
Knee-high Smartwool socks
Fasterkatt cycling boots
Smartwool liner gloves
Pearl Izumi lobster gloves
Fleece balaclava
Fleece hat
The only part of me that was pretty uncomfortable was my face. My feet were numb by the end, but they weren't painfully so and there were no lingering after-effects. The Fasterkatts are more of a transition season boot and the weather was definitely colder than their suggested range, but they were still far better than just a regular bike shoe. My shirts were very damp when I took them off; I might have been better off trading one layer for a slightly thicker jacket, but I went with what I had and it worked.
Results
: I took second in my division, which is only impressive if you don't know that there were only two women who finished and the other one finished nearly 2 hours ahead of me. I was third last overall (or 16th). DNFs aren't listed, but I imagine there were a few; I know at least one other woman started. And the place doesn't really matter to me (OK, it does a little) as much as 55 more miles in my Dirty Kanza bank. Hopefully I can channel a little of the Rocheport chill when the Kansas temperatures start to climb. :)